Back to all posts
Posted on
Meet our Vice Principal!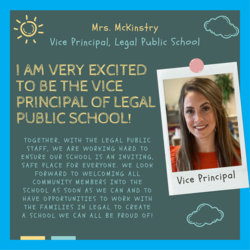 My name is Erika McKinstry and I am very excited to be the Vice Principal of Legal Public School for the 2022/ 2023 school year.
Here are a few things about me:
I live on a small acreage just outside of Legal with my husband, two dogs, two cats and a few chickens!
I love being outside whether its hiking, camping, doing yard work, playing ball, or just enjoying the sunshine. I also think being outside is vital for all children and truly believe that there is always an opportunity to be outdoors, and learning from the land!
I  love teaching and interacting with students and their families. It is amazing to be blessed with these opportunities and I look forward to connecting with the community members of Legal.
Together, with the Legal Public staff, we are working hard to ensure our school is an inviting, safe place for everyone. We look forward to welcoming all community members into the school as soon as we can and to have opportunities to work with the families in Legal to create a school we can all be proud of!