Back to all posts
Posted on
Meet our Principal!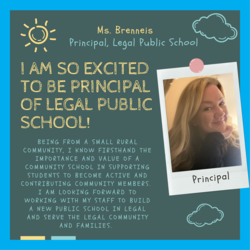 Meet our Principal - Ms. Kessia Brenneis
I am so excited to be Principal of Legal Public School!
A couple things about me:
I was a Sturgeon Public student from Kindergarten - Grade 12
I have served as an Educator for the last 13 years; 12 of them in Sturgeon at Gibbons, Lilian Schick, Morinville Public, Guthrie and now Bon Accord Community school.
I received my Masters in Educational Studies from the University of Alberta and am also a certified trainer with the Child Trauma Academy.
I am the lead singer in a band called Barre 44 - the name paying homage to my family roots out by Riviere Qui Barre.
Being from a small rural community, I know firsthand the importance and value of a community school in supporting students to become active and contributing community members.  I am looking forward to working with my staff to build a new public school in Legal and serve the Legal community and families.