Back to all posts
Posted on
Meet our Pre-K and Kindergarten Teacher!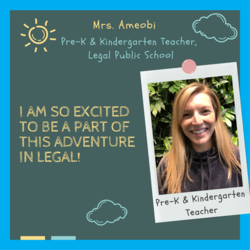 I am Andrea Ameobi and I will be teaching Prek/Kindergarten.
I am so excited to be a part of this adventure in Legal. I grew up in Sturgeon County and have been teaching throughout Sturgeon Public since 2013.
I love teaching early education and getting the opportunity to watch the little ones grow and change over the year. It is such an exciting time and they have so many amazing ideas and questions! It is really inspiring!
I enjoy spending time outside with my family, and like Ms. Brenneis, I love music and singing! I'm really looking forward to working with some new faces and reconnecting with some familiar ones this upcoming school year in Legal!