Back to all posts
Posted on
Meet our 3/4 Teacher!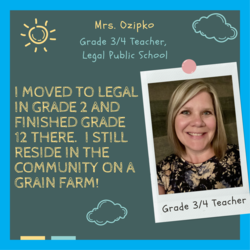 I have been teaching with Sturgeon since 1993. Almost 10 years at Lilian Schick, shorter times at Namao and Ochre Park, and almost 12 years at Landing Trail. 
I love working with kids and watching them grow more confident. I love building relationships and sharing stories together. Every student I've worked with has something amazing to share! 
Some of my favourite things are reading, jigsaw puzzles, camping/outdoors, bike riding and cooking. My kids are almost all grown up, but I have replaced them with dogs, who cuddle me more anyway! Like Miss Longstaff, I'm also a tea drinker!